Re-Engineering Bearings
Strategic Spare Parts from Used Bearings. Oiltech Bearings solves problems for operators and service centers of rotating equipment with re-engineering services of whitemetal bearings, seals and associated parts. Parts may be obsolete or difficult to obtain due to lead time or costs. Our solutions solves the problem with detailed inspection, design and often concurrent production to provide solutions in very short lead times.

Inspection
Detailed inspection of used parts is performed to collect data required for creating a solid model. This will also include confirmation of critical clearnace and location features to ensure correct fit and performance.
Design
Design starts with a CAD model of the bearing or assembly. This is used to create production drawings which are carefully checked and approved. Drawings can be purchased by our clients for future use.

Production
Once used samples are recieved or basic sizes confirmed, raw material ordering and processing can start concurrently with re-engineering activities. This shortens the overall lead time on each project.
Examples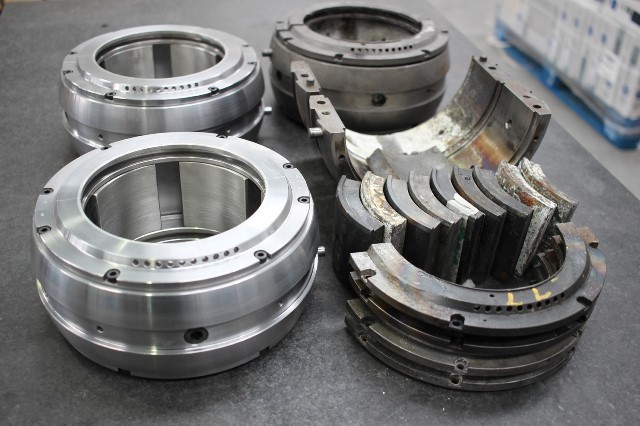 Compressor and Turbine Thrust and Journal Bearings
This project had the advantage of some GA drawings from the end user. The samples provided were in very bad condition but still good enough to produce manufacturing drawings and supply a complete set of journal bearings and thrust bearings for a turbine and compressor train.
---
Floating Oil Seals
These floating oil seals were re-engineered for a compresor. With whitemetal on both axial faces and the inside diameter, the steel backed parts were then tin plated to protect against corrosion.
---
Steam Turbine Tilt Pad Journal Bearings
These tilt pad journal bearings are a little unusual with 6 pads, but a relatively simple design. We have repaired this type of bearing many times and when the customer wanted a spare to keep on stock ready for emergency shutdowns; we re-engineered and manufactured a 5" and 6" assembly.